Copyright © 2017 by AASSC · All Rights reserved · E-Mail: AlamoSSC@yahoo.com
Alamo Area Shetland Sheepdog Club
Your Business Website
Your Company Slogan Here ...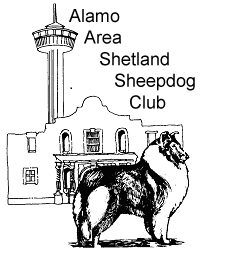 San Antonio, Texas
Established 1969
Links & Suggested Reading
The purpose of the AASSC website is for entertainment and educational purposes only. The Alamo Area Shetland Sheepdog Club shall not be responsible for any of the content contained therein. Should any link not work, please email K'Lynn Ball!
By Cynthia Holmes of Oakdale Shelties

They breed to improve the breed not simply to make money.

They nearly always belong to a breed club and are active in showing their dogs.

They are willing and eager to spend time with you, explaining, teaching and advising you about their breed.

They will be happy to show you their dogs and facilities.

They will screen you carefully to ensure your suitability.

They sell only healthy stock, fully vetted and guaranteed for a reasonable length of time after the sale.

They stay in touch with you to see how you're getting along with your new dog.

They do not sell puppies to pet stores, brokers, dog retailers, dog wholesalers and unethical dog breeders.

They ensure that the breed does not contribute to the pet overpopulation problem by requiring that all pet quality puppies be spayed or neutered as a condition of placement and sale.
How to Recognize a Reputable Breeder
The American Shetland Sheepdog Association web pages are an excellent source to obtain information as it is the Parent Club of all Sheltie Clubs and the Sheltie Parent Club for the American Kennel Club. The ASSA keeps an up-to-date listing of contacts to refer you to responsible breeders and for Sheltie Rescue groups in your area. The Shetland Sheepdog video available from the American Kennel Club is an excellent source of information.
ASSA
Shoreline Shetland Sheepdog Club of Baytown
Shetland Sheepdog Club of Austin
Shetland Sheepdog Club of Houston
Trinity Valley Shetland Sheepdog Club
Texas Sheltie Clubs
Sheltie Talk
by Betty Jo McKinney & Barbara Hagen Rieseberg

The book that has become the Sheltie owners "bible". Beautifully illustrated hardback edition filled with so much practical information, every new puppy owner must have one! From understanding the essence of the Sheltie's character and charm to caring for the aging pet, Sheltie Talk is a how-to-book from beginning to end. Ordered thru Best Friends Ltd., POB 7842, Loveland, CO 80537 or by calling 1-800-777-7257

Sheltie Guide, written and illustrated by Jean D. Simmonds is a comprehensive interpretation of the AKC Shetland Sheepdog Standard, filled with numerous informative illustrations depicting the sheltie "Rights and Wrongs". Ideal reading for anyone interested in learning what makes a sheltie conform to its standard of perfection. Check out the Website.

The Shetland Sheepdog In America by breeder/judge Charlotte Clem McGowan is a book with over 500 wonderful photos of shelties and is the most complete history ever, plus breeding, showing, and more. Can be ordered thru Best Friends Ltd., POB 7842, Loveland, CO 80537 or by calling 1-800-777-7257
Sheltie Books
Are the pups clean and appear to be healthy? Have the pups been checked for worms or received at least one vaccination against distempter and parvo?

Are they friendly and attracted to people? Do they beg to be picked up and do they enjoy being held? Timid pups often become fear biters.

Is the mother friendly and attractive? By the time the pups are 6 weeks old, the mother SHOULD NOT be aggressive or protective. If the father is present, is he willing to make friends with visitors? DO NOT buy a pup whose parents do not have good temperaments. TEMPERAMENT IS HEREDITARY!

Are the pups old enough to leave the litter? Pups should NEVER EVER be taken from the litter before 6 weeks of age. They need to interact with their littermates for at least that long. Seven weeks would be even better. Be sure the breeder has given the pups individual attention and training.

Is the paperwork in order? You should receive a contract (signed by both buyer and seller), and a pedigree. Responsible breeders sell their pet pups on spay/neuter contracts, which means you will receive the registration application AFTER your dog has been spayed or neutered. That should be explained in the contract. You should not have to pay extra for the pedigree.

Have the parents been x-rayed for hip dysplasia? Is the breeder aware of the genetic problems in the breed and is he breeding for sound HEALTHY dogs with stable temperaments?

Will you receive a supply of food, instructions about the care and feeding, a list of necessary supplies and health record? Does the breeder supply dog care books, as well as information about vets and training schools?

Is the breeder experienced with this breed of dog? Will he be able to answer your questions or help with any problems that arise? That's one of the biggest disadvantages in buying a pet shop or commercially raised pup - no one cares whether or not you're having trouble. They only want your $$$.

Did the breeder insist that you take the dog through obedience training? Responsible breeders make that a requirement for sale. All dogs should have at least one basic obedience class.

Were you told the difference between a show prospect and pet quality puppy and shown why your puppy is being sold as a show or pet puppy? All breeds have their drawbacks, and they should have been explained to you. Beware the hard sell! Just because a puppy has papers, does not guarantee quality. It only means that the puppy has a traceable family tree.

Did the breeder talk to you about dog crates, explain how to use them and stress how helpful they can be with housebreaking and providing a safe place for a nap and a necessity when traveling?

DO YOU FEEL LIKE YOU ARE ADOPTING A CHILD? YOU SHOULD! BUYING A PUP IS A SERIOUS RESPONSIBLITY.

ARE YOU WILLING TO MAKE A COMMITMENT TO PROVIDING CARE AND LOVE FOR THE LIFE OF THIS DOG? If the answer is no - then you should reconsider your desire to purchase a puppy. A DOG IS NOT AN OBJECT TO BE DISCARDED WHEN IT NO LONGER IS OF USE OR FITS INTO YOUR LIFESTYLE!

IF YOU CAN'T ANSWER "YES" TO THE ABOVE QUESTIONS, PERHAPS YOU SHOULD LOOK ELSEWHERE FOR YOUR PUP. TAKE YOUR TIME AND FIND THE RIGHT BREEDER AND THE RIGHT PUP!
Checklist for Choosing A Pure-Breed Puppy
Orthopedic Foundation for Animals (OFA) (hip and elbow dysplasia, thyroid)

PennHip (hip dysplasia)

Canine Eye Registry Foundation (CERF) (eye
diseases)

VetGen (Type III von Willebrand's Disease)

Washington State University (MDR1 ivermectin and other drug sensitivity)

OptiGen (Sheltie Eye Anomaly)
Health Registeries